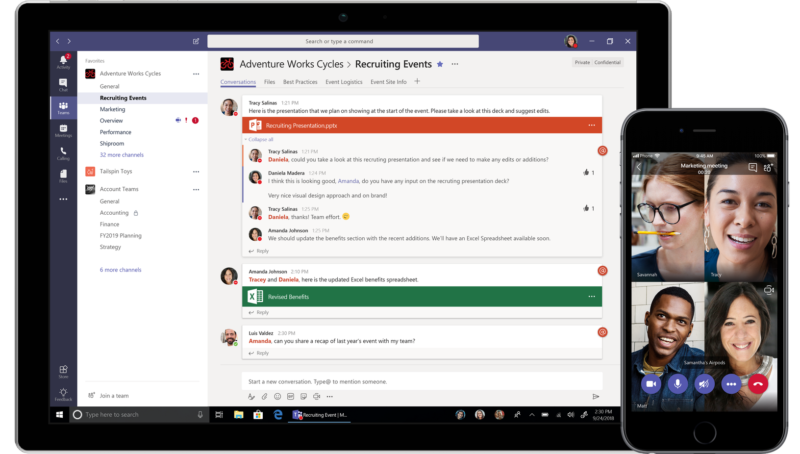 Enlarge / Microsoft Teams on different devices. (credit: Microsoft)
Ever since its introduction, Microsoft's Teams—a collaboration tool for chatting, sharing documents, video, and voice calling—has had one major competitor: Slack. Teams was clearly built as a response to Slack's growing enterprise presence, with its model of IRC-style chatrooms winning hearts and minds.
Thus far, Microsoft has pushed Teams' extensive integration with the company's other products—Office, Skype, SharePoint—as its major distinguishing feature, but Slack has had one important capability that Teams has lacked. The starting price for Slack is free. The free version has all sorts of limitations—only 5GB of files can be saved, only 10,000 lines of chat can be viewed, and integrations with other applications are restricted—but it's enough to get a sense of how the product works and how it can fit in an organization. The free version also means that Slack has found a role in various non-paying spheres, such as open source development, serving a similar role to the one once served by IRC.
Today, Microsoft is offering a free version of Teams that anyone can sign up to and use. Like the free Slack tier, there are limitations to the free …read more
Source:: Ars Technica
(Visited 3 times, 1 visits today)