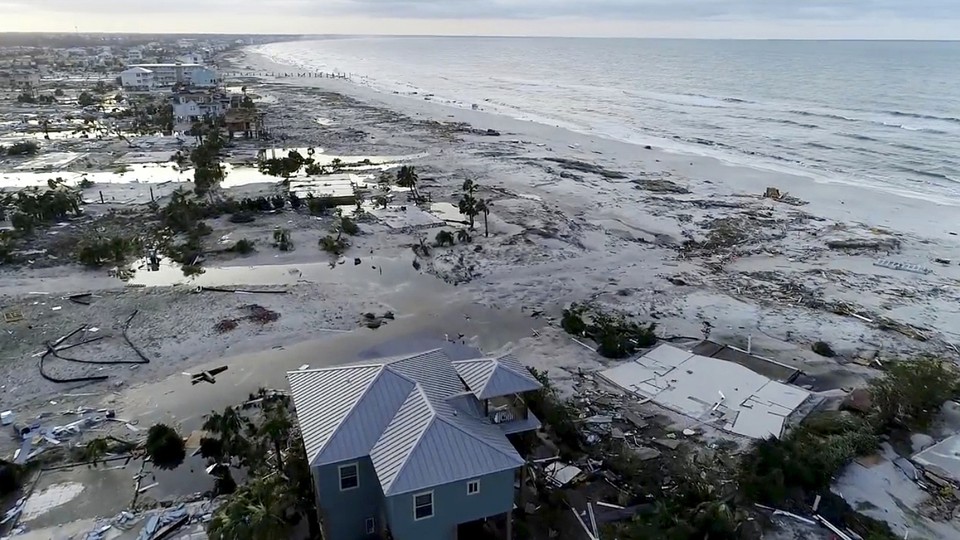 Just a few days ago, Hurricane Michael was forecast to strike the Florida Panhandle as a relatively weak hurricane—a dangerous storm, to be sure, but also nothing especially historic.
Instead, Michael will be remembered as one of the most damaging and powerful storms ever to wallop the continental United States.
After coming ashore Wednesday afternoon as a powerful Category 4 hurricane, Michael slashed a path of near total destruction across the Florida Panhandle and into southeastern Georgia. The storm's freakishly low pressure and sustained, brutally strong winds—which peaked at 155 miles per hour—flattened neighborhoods, snapped trees in half, and left hundreds of thousands without power. At least two people lost their lives to the storm, according to officials.
Scenes of near-cataclysm are trickling out from across Florida's Gulf Coast. In the beachfront town of Mexico Beach, Florida, roads now provide the only interruption to piles of rubble that used to be city blocks. At Tyndall Air Force Base, also on the shore, the storm tore the roofs off military hangars and then pushed around the heavy warplanes resting inside like they were children's toys.
[Photos from the aftermath of Hurricane Michael]
Even inland, the winds—which blew as fast as those …read more
Source:: The Atlantic – Science
(Visited 1 times, 1 visits today)