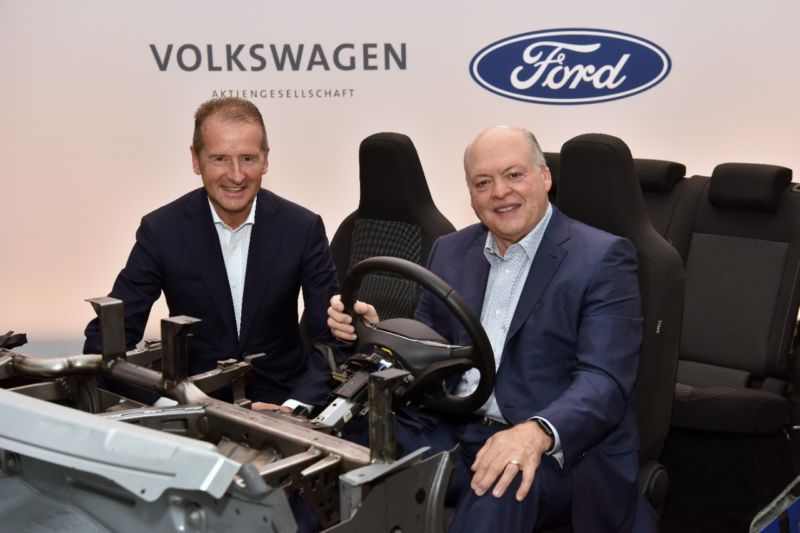 Enlarge / Volkswagen CEO Dr. Herbert Diess (L) and Ford President and CEO Jim Hackett (R) announced their companies are expanding their global alliance to include electric vehicles and will collaborate with Argo AI to introduce autonomous vehicle technology in the U.S. and Europe. (credit: Sam VarnHagen)
On Friday, Ford and Volkswagen made official news that first leaked last week. The pair are strengthening their alliance to work together on those hottest of emerging automotive technologies, electric vehicles and autonomous driving.
Equal partners in Argo AI
VW will become an equal partner in the self-driving startup Argo AI, putting in $1 billion in cash and another $1.6 billion in the form of Audi's Autonomous Intelligent Driving spinoff, which will become Argo AI's European center of operations. Over the next three years, VW will also buy an additional $500 million of Argo AI shares from Ford. (Ford will still complete its billion-dollar investment in Argo AI). Until now, Argo AI has operated as a de facto Ford subsidiary, but this investment makes VW an equal partner, with the remaining shares in the company reserved for employee compensation.
Argo AI's technology will be incorporated into both Ford and …read more
Source:: Ars Technica
(Visited 1 times, 1 visits today)