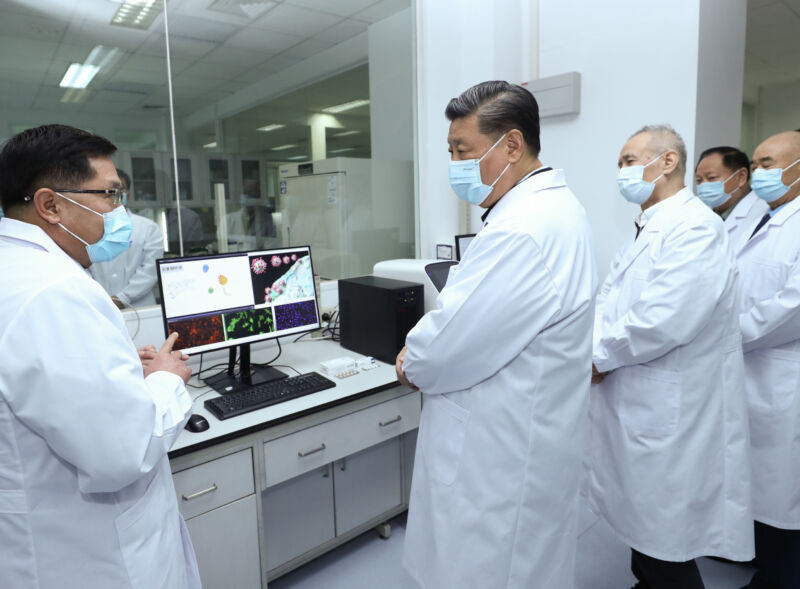 Enlarge / Chinese President Xi Jinping learns about the progress on a COVID-19 vaccine during his visit to the Academy of Military Medical Sciences in Beijing on March 2, 2020. (credit: Getty | Xinhua News Agency)
China has approved an experimental COVID-19 vaccine for use in its military after early clinical trial data suggested it was safe and spurred immune responses—but before larger trials that will test whether the vaccine can protect against SARS-CoV-2 infections.
China's approval marks the first time any country has approved a candidate vaccine for military use. The country's Central Military Commission, made the approval June 25, which will last for a year, according to a filing reported by Reuters.
The vaccine, developed by biotech company CanSino Biologics and the Chinese military, is a type of viral vector-based vaccine That is, researchers started with a viral vector, in this case a common strain of adenovirus (type-5), which typically causes mild upper respiratory infections. The researchers crippled the virus so that it doesn't replicate in human cells and cause disease. Then, they engineered it to carry a signature feature of SARS-CoV-2—the coronavirus' infamous spike protein, which juts out from …read more
Source:: Ars Technica
(Visited 3 times, 1 visits today)