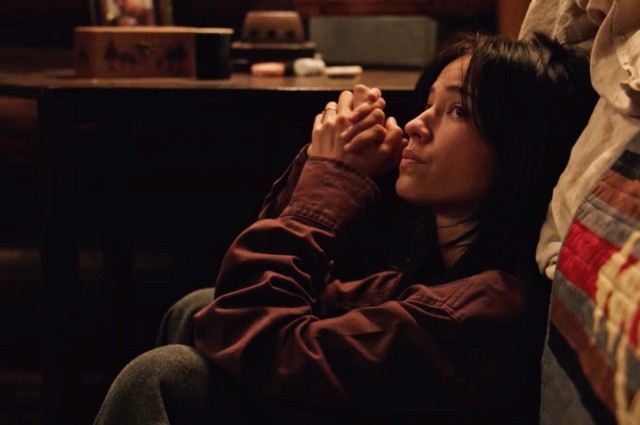 (Image credit: Paramount Network)
A blur of red and blue dominated the highway as a police cordon blocked the passage of two of the perps; and, after one of them sneakily reached for a gun, Kasey unleashed a blast of bullets at the two guys like a scene from Scarface. There was no intention of taking anyone quietly down to the station: retribution, not justice, was the aim of the game.
Does absolute power corrupt absolutely? Perhaps. The show shakily maintained that Kayce and John were honorable men doing only what necessary to protect their land and their family. But we see Kayce abuse and even overestimate his authority in far less high-stakes situations too. The Livestock Commissioner has a surprising amount of sway over the Yellowstone police, which we saw in episode 1 as he barked orders to the sheriff to pursue his father's attackers. Surely a Livestock Commissioner wouldn't outrank a town sheriff?
Later in episode 3, he's visited in his office by Emmett Walsh. The man's riled because his neighbor, a "son-of-a-bitch from calif-f**king-fornia," has put cattle grids down all along his easement, making transporting his livestock a nightmare and costing him a fortune. He's out of options. So, with a weight of expectation, Kayce asks what he would like him to do about it, and Emmet euphemistically says, "I don't know. Something."
Like Rip, Kayce has become a bit of a fixer, and the reluctant expression on his face implies he knows that force will be required. A few scenes later he's at the Peterson Ranch, flinging its obnoxious owner Ralph (Jonathan Kells Phillips) to the ground – who's only raising llamas for the tax break anyway – and binding him with cable ties. When an incensed Ralph threatens to call the police, he shouts back that he is the police, and furthermore, that he doesn't need a warrant.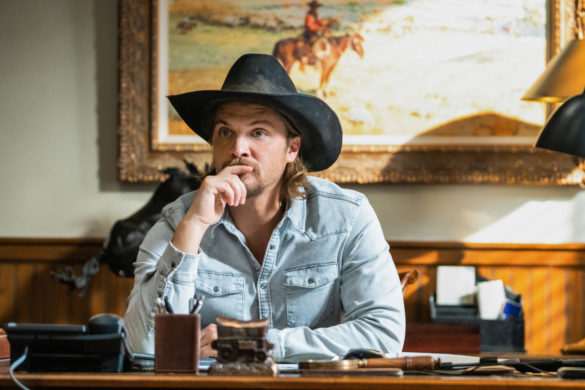 In Kayce's mind this is still the Wild West and legal protocol is just so much red tape. Plus, people like Ralph – wealthy, entitled folk from the city with no idea about the hardships of rural life – merely illustrate a modern world whose incursion into the Midwest looks to eradicate everything the Duttons hold dear.
Strangely, the law in Yellowstone seems to bend towards corruption. Later in the episode, John arrived for a secret rendezvous with Chief Rainwater, who is holding Chester Himes captive in the boot of his car – the guy who organized the hit on the Duttons – and he's been chaperoned by a member of Brocken Rock police department. Before the beaten informant is revealed, he drives off, arguably to avoid being implicated in the crime.
YELLOWSTONE SPOILER-FILLED RECAPS
Major spoilers follow for Yellowstone episodes 1 to 3. Turn back now if you're not caught up.
"Sometimes good men have to do real bad things." It was this piece of grim wisdom, imparted by John to his son Kayce at the beginning of episode 2, that was grippingly realized throughout 'All I See Is You' – from the brutally efficient killing of the remaining militia, to John's confrontation with Chester Spears, the mastermind behind the orchestrated assassinations last season.
By the end of the episode, whether they could continue to think of themselves as "good" or rather as men willing to do anything to protect their land was brought into question.
The inaugural episodes of Yellowstone season 4 had the difficult task of introducing new storylines while bringing a degree of resolution to old ones, and after the action-packed opening of the show, the drama stalled – jumping from incident to incident with little immediate connection. By episode 3, however, there's an engagingly consistent timeframe, tone, and clarity of focus.
The narrative threads from episode 2 are effortlessly picked up and woven together, with events unfolding over 24 hours – from dusk until nightfall – and concentrated around the Dutton ranch.
About this episode
Source:: TechRadar – All the latest technology news
(Visited 5 times, 1 visits today)

NASA Chooses Spacex To Launch A Self Propelled Space Station To The Moon